Walter Swarthout was a sweet and soulful man that gave so much of his time and efforts to Marin Dance Theatre. He and Margaret celebrated 50 years of marriage this past May. Their relationship demonstrated the power of love, each and every day. Walter made a beautiful and lasting impact in the lives of everyone he touched. He will be greatly missed, but forever in our hearts.
Below are quotes from MDT dancers and alumni to our dear Walter:
…thank you for sharing your gift of beauty with us all. You remind us to treasure each of life's beautiful moments. You found beauty and captured the essence of each uniquely precious moment in artistic purity…

…the love you had for Margaret showed me that true loves exists, and your gentle personality showed me that kindness always wins. Your memories will forever be captured in the remarkable pictures you've taken, and forever in my heart…

...each of your photographs holds with it a perfectly preserved moment of beauty. Each memory lives on in your artistic gift…

…I dedicate my dance journey to Walter Swarthout, the man behind the camera, who captured my growth as a dancer and a person…

…thank you for capturing moments that made us feel both beautiful and of worth. Thank you for loving us and always supporting us in everything we chose to do. Thank you for loving Ms. Swarthout so thoroughly and showing us that love always wins…
In lieu of flowers, the family is asking that people send a gift to MDT, as next to Margaret and his family, MDT and its success, was most dear to Walter.
If you'd like to make a tax deductible donation to Marin Dance Theatre in memory of Walter Swarthout, you may click on the YouCaring link below to proceed with the donation, or you may mail a check, made payable to Marin Dance Theatre, at the address listed below, with "

in memory of Walter Swarthout

" noted in the memo section:

MDT's donation page at YouCaring.com: https://www.youcaring.com/mdt-535522

Marin Dance Theatre
c/o Walter Swarthout Memorial
One St. Vincent Drive, San Rafael, CA 94903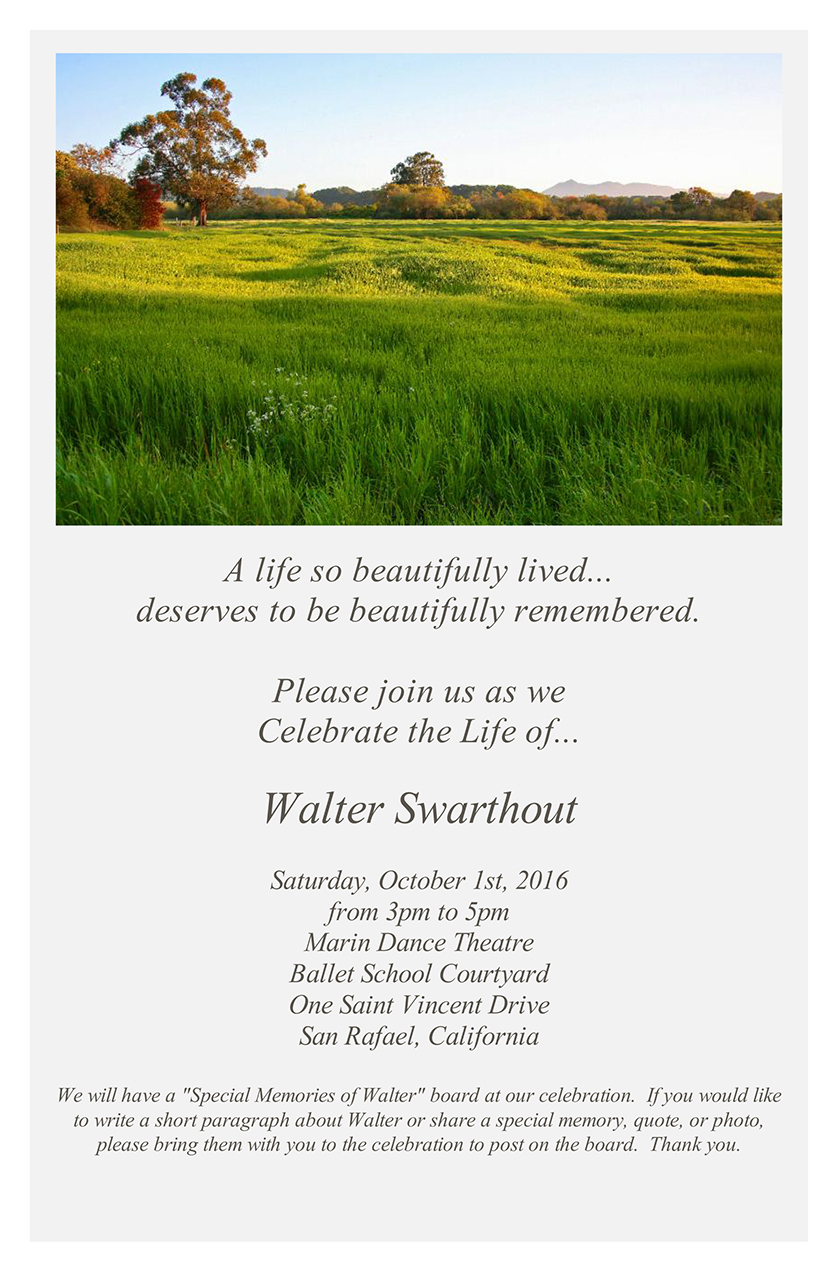 Thank you to all who came to help celebrate the life of our dear friend and family member, Walter.
We know so many of you love and care about him as much as we do, and we are honored
by all of your presence on Saturday. We look forward to your continuing friendship and association.